Write Your Novel Support And Fellowship
Write Your Novel with us!
Let's join in support, accountability, and getting your novels done during Nanowrimo!
This course runs from November 1-30, 2017.
For you, if you are a:
Current or former student of Plan Your Novel course
First-timer to Nanowrimo to writing a novel and who wants support while they write
Experienced novelist who wants the added support
Benefits
For November we will gather in the Fellowship of the Pen so you can write your novel.
Goal: Write your novel in November!
You can do this!
When you join the course, you will have:
A safe space to write your novel, in community with authors like you
Small and intimate group support with weekly calls (4 Tuesdays at 5:30pm Pacific/8:30pm Eastern; calls last 90-120 minutes.)
Help with the sagging middle
Accountability to sit down and write daily
Tips and techniques on how to make room in your life to write daily (or nearly daily)
Brainstorming opportunities with your cohorts when you're stuck
Support with re-assigning the critical, editorial, judging (left-brain mind)
Cheerleaders for what you're creating from your peers and knowledgeable mentors, Beth & Ezra Barany
Practice sharing in a safe place; you only need to share what you feel comfortable sharing
Feedback from peers (optional and peer-generated)
---
"I've signed up for virtually all the classes the Barany School of fiction offers, and absolutely love them! Author-instructors Beth and Ezra have extensive knowledge in genre fiction, book marketing and other areas of writing, so you're always learning much more than just the amazing course material.Their positivity, support, and eagerness to address questions provides a fun, supportive environment that draws out the Muse and fosters your creativity. What I love most, in addition to the great community of fellow students, is the spectrum of education they provide.– Tamsen Kaye, Urban Fantasy Author

---

More About Who This Course is For
— This course is for writers who will be doing Nanowrimo, but want the added support of experienced teachers and mentors, who are also novelists: Ezra Barany and I, Beth Barany. Yep, we're married, and actually met at a fiction writing group 19 years ago.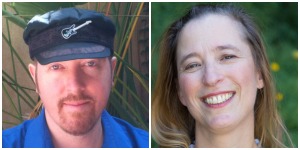 — If you're dedicated to the idea of writing your book but are overwhelmed by all the emails Nanowrimo sends, and want intimate group support.– This is your first novel and you're not sure what you're doing, but you're determined to see this experiment through.– You've done Nano several times and never finished, and this time you really want to finish and feel great about it.— You've done Nano and felt totally lost by the time you got to the middle of your book.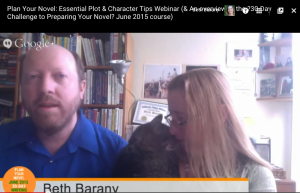 We're here to help you!
---
ABOUT THE PLAN YOUR NOVEL course

"I just [have] to say thank you from the bottom of my heart and with the full wide-eyed wonder of a writer who has been stunned at how penetrating and fantastically motivating your course is! … I LOVE the coursework. It is generous, bracing, actionable, everything that I was hoping for when I signed up. The novel that has been perplexing me for months upon months is now moving steadily along …"I remain stunned by how practical this course is and what an incredible difference it has made for me in my work!
— Louise Foerster, Author
---
Special Opportunity!
Get This

Write Your Novel

Course for Free
Here's how:
By signing up for the Group Coaching Program.
Details:
Pay only $30/month for 12 months. This payment option gives you membership into the Group Coaching Program for Genre Novelists, Call to Adventure level.
In the CALL TO ADVENTURE level, you'll get two monthly group calls, plus access to 3+ years of archives, and access to the 9 home-study courses, and Dive In access to 5 live classes in the year ($20 per class).
CALL TO ADVENTURE
Monthly Payment Plan for 12 months
$30.00 USD/monthly
Sign up for Author Group Coaching with Beth and Ezra Barany
Or click here if you'd like to pay in full for the CALL TO ADVENTURE Program:
$329 for the 12-month program ($31 off).
HOW TO ENROLL
Fellowship of Pen: Let's Write
Your investment: $197
Specifics on what you'll get:
Private Facebook group for November (or, Twitter #WYN2017) to continue the support, accountability, and tailored guidance.
Four Live Teaching/Coaching calls: Tuesdays at 5:30pm PACIFIC on our Zoom channel for spot checks, motivation, writing tips during your busy life, and cheers on every step you take. The calls are 90-120 minutes long.
BONUS: The Writer's Adventure Guide 12-stage course for free. ($60 value)
Yes, I'm ready to join "Write Your Novel Support and Fellowship": $197 (If you have a discount code, be sure to enter it at check out.)
 **Registration closes Friday, November 3, 9pm Pacific**
SIGN UP BONUSES: Be sure to sign up by then so you can get Beth Barany's ebook, Overcome Writer's Block.  And other Get Started Goodies!
---
"You guys played off so well against each other and delivered such amazing writing nuggets – more of that! And I loved the one-on-one action feel, the way you always responded to everything people posted on the lessons. I thought this was an amazing course."

— Margay Leah Justice, Romance/Horror Author
---
 **Registration closes Friday, November 3, 9pm Pacific**
And other Get Started Goodies!
**

About the Instructors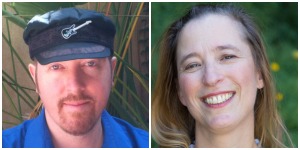 Beth and Ezra Barany are award-winning, best-selling novelists, who have worked with over 100 authors to help them get their books written and published. 
Happily married for over 17 years, we're passionate about writing, story telling, and guiding authors to achieve your dreams.Together we have written and published 20 books, plus 3 audio books.
Together and separately, we have taught thousands of students over the years, in both the public and private sector, including overseas in Paris, France. We both teach (and in Beth's case, coach) and are working on writing and publishing our novels.
Why work with Beth and Ezra:
Beth has written and published 5 novellas, 3 novels, a collection of the romance novellas, a short story, and a novel prequel in the last few years.
Beth has used this process successfully in each of her 5 novellas and 10 novels.
Beth has taught all these tools to other authors and has seen how effective these tools are.
Ezra has written 6 novels during Nanowrimo.
He successfully uses the techniques that we teach.
Ezra has published 2 thrillers and is editing the third and fourth in his series.
Why We Really Want You in this Course
Ezra and I want to support authors who want support, know they learn best in small, hands-on learning environments, and who want to have a career as novelists. If that's you, we really want you in our course.

FAQ
What is your refund policy?
Due to the nature of committing to your writing, there is no refund for the course.
Can I access the live webinars and calls after they occur?
Yes, you have unlimited lifetime access to all the calls and any course material created for this class.

If you still have questions for us, just contact us via email, and we'll be happy to answer your questions.